Multi frames are artworks of walls, which are necessary for wall decorations. The company offers various eye-catching multiple opening photo frames (collage frames) manufactured on its own. Compared with other frames, multi photo frame sets (detachable) are varyingly stylish when composed differently. While these fixed multiple opening frames are less customizable but provide customers with options to assemble a collage of sweet memories. Collage frames offered by us display more than one photo once, which are made from different materials and techniques, ranging from plastic to paper-wrapped mdf. Please contact us for custom manufacturing of collage styles.
Collage Photo Frame
MDF photo frame
Since the sales of MDF photo frame on the market, which has been unanimously praised by domestic and foreign guests, MDF photo frames becomes popular because they are cheap, the production cycle is short, and also it can be in different colors, designs, patterns with low MOQ; Based on the MDF frame, Sofine's team also wants to develop more styles of MDF photo frames (New material and fashionable design) to meet the customers' multi-dimensional requirements; In addition to changing different shapes, different MDF paper patterns and colors to meet the needs of customers, SOFINE'S R & D department has took a long period of research, experimentation and repeated proofing; Finally, after a month of unremitting efforts, the invention can put a plurality of photo frames together to form a large frame, like combination photo frame which can be used for decorative wall photo frames or table customized photo frame;
Development of Multiple picture frame
In the beginning, Sofine tried to put the two single MDF photo frames together and hope can get family photo frame collage; We have thought about just fixing them with nails, but the result was not so good. After many time tries, Sofine decided to fix them with glue and then reinforce them with special nails, and has adopted several kind of environmental protective and strong adhesive force glue to form a collage photo picture frame; After a long period of time, the resulting sample with wall mounted picture frames was tested without separation and was very strong. This also laid the foundation for our future product development. Like below 2-opening photo frame with cork wrapped, it's more fashion and modern, both free standing and wall hanging;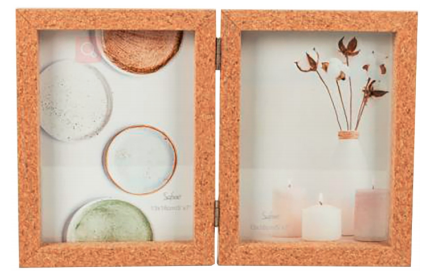 3-opening photo frame
On the basis of finishing developing 2 opening photo frame, Sofine keeps to study with 3 frame for Wall Hanging Pictures Photo Frames; The products can be for promotional photo frame and decor frames for person, they can use for decoration picture frame except photo frame;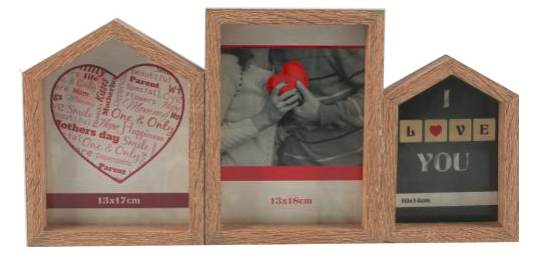 Collage photo frame 4
Although our R & D colleagues successfully put together two or three MDF frames, and also the results were successful, Sofine hope can develop more and more multi opening photo frame like decorative picture frame and modern picture frame ; After a few days of splicing and product proofing, finally we successfully finished the research for 4-opening picture frame , Sofine put 4 MDF photo frame in regular position which can be as decorated wall hanging photo frames, below is our first 4 hole picture frame. This four picture photo frame is more modest, which can be hung on the wall as a decoration, and is a more classic picture frame. It does not need to occupy a lot of space;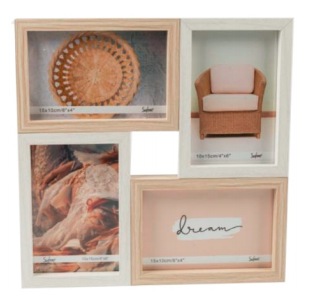 After the first 4-hole photo frame was launched on the market and received high praise from the customers, Sofine continued our efforts to change more product's splicing position and different surface treatments on a regular basis, to cater to some of our younger clients. Like below photo frame design with irregularity position with dark brown color, it can fit to natural style and simply country decoration area; So for one living room or dinning room, we can put such wall photo frame or decorative wall picture sets to make the room more comfortable;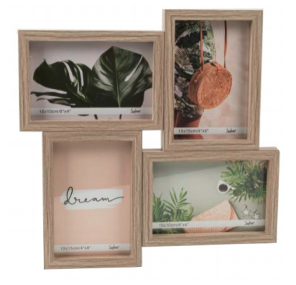 Also we can change the surface finish of the photo picture frame to achieve with different effect, The following photo frame surface has been done with old finish;You also can match the different styles of the guests to get customized color wall frames; In addition to the simple splicing, we also do up and down the modelling, making the product more three-dimensional feeling.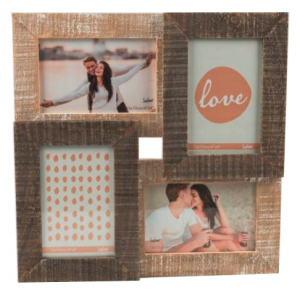 Five opening picture frame
While each frame in the previous four hole frame was assembled at the same size, Sofine's team tried to combine frames of different sizes from the suggestion of the customers to make the product more flexible and elegant. The product below contains three frames of 2 * 3", 4 * 6"and 5 * 7", which can be used in any home region and any scene. Customers can place different sizes of photos according to their preferences, so we can accept custom size for frame photo set; The frame is also a break from the normal composition -- a single frame is made of frame, glass and back card. In addition to the usual arrangement, Sofine has add wood clips and metal clips to replace the glass, making the frame design looks more casual and natural. Images like below picture, we paired with the greenery series also make the product cleaner and more suitable for modern style home furnishings. For the clip parts, it is easy for customers to change photos or pictures, and also warmly welcome by customer to accept such wall hanging pictures photo frames.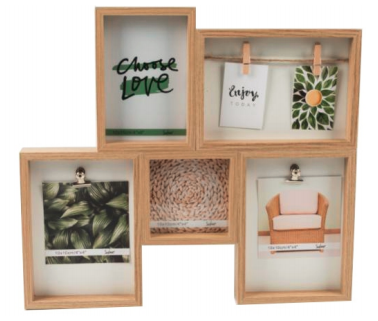 Six picture photo frame
The gradual development and feedback from the guests has given Sofine more confidence that this combination collage photo frame can continue to develop more styles. Sofine decided to make more different shapes or position arrangement for six-opening picture frame, such as this frame, although all six frames are the same size 4x6", but with different layouts and assembly, it looks like a ladder. Also for color, we choose the regular and classic White, no matter what color your required for background, MDF with paper wrapped photo frame can be with any color, profile size and background.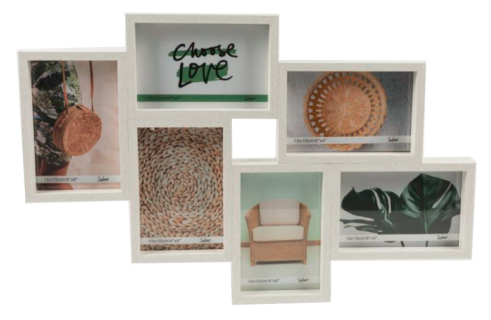 In addition to the featured picture photo frame, there are also a lot of customers who are still like the basic designs, so normally we will research some basic MDF wall frame to meet these customer's needs. Like following picture frame, this is a regular six-opening picture frame set, simple arrangement plus clean color which bring a large number of orders. In addition to white, there have too many colors can be choose from our MDF color swatch, also we accept customer's nominated color.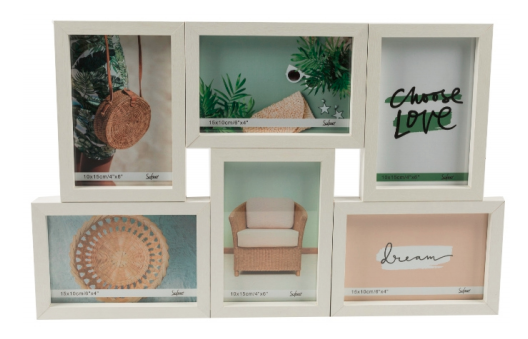 The Stereo effect of the four collage frames photos was also applied to the six collage frames photos. As shown below, compared to the previous classic photo frame, this one is wider and has enough face to support the top and bottom frames overlapping. At the same time, we chose two colors which are close to the wood, and place some special treatments on the surface to make it look more like a real tree, a style that is very suitable for guests who want to make a country collection.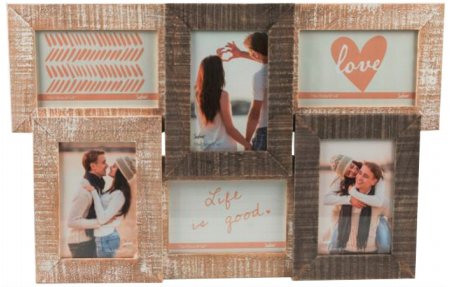 Sofine has been working on MDF photo frames for more than 20 years and has developed thousands of picture frame photo frame with different shape and different profile, some of which sell well and some of which do not sell well, although they are available all year round. This is one of those perennial products that is hard to grow, we hope to change with porous frames. Firstly, we chose the most popular wood-colored wrapping paper for MDF photo frames, and then overlapped individual product combinations. The new six-hole photo frames got good market feedback, and also promoted the sales of single-hole photo frames with the same item shape.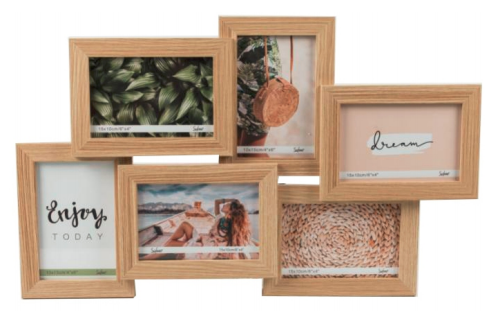 Photo frame collage family-seven holes
After test with many picture frames put together, there will always be a gap between the picture frames or photo frames, some clients believe that the gap will reveal the color of the background wall, which will destroy the overall aesthetic. So Sofine came up with new idea of combining frames of different sizes that the guest mentioned, and we decided to fill the space with smaller frames. Originally just want to use a small square to cover the middle of the gap, but this product is too simple, there is no sense of design. So we added a small square of the same size on the left and right sides, and the finished product is more symmetrical and aesthetic.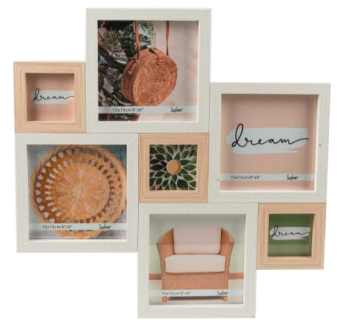 Although the front frame combined two colors, we still hope to make more changes on photo collage frame. For example, a picture frame can have different colors, color combinations are easy to handle because MDF is very versatile, such as a MDF picture frame can be messy and cheap if not well matched. According to previous experience, we found that we can add a thin picture frame to make a layer, and still use the log color with white, although each frame is same, but after put together will not appear boring, it also looks like a Ferris Wheel Spinning, we can call it picture frame photo collage;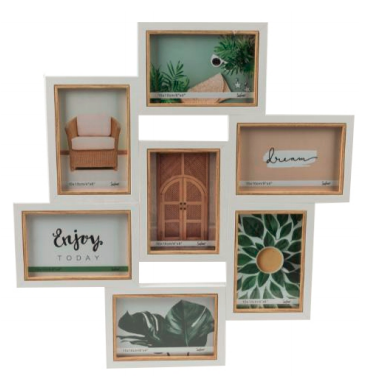 Eight photo collage frame
Taking into account that we have opened an 8-hole injection frame of the mold, the product is as below picture. The simple design meet demand of too many customers, and can be finish in all Pan-tone colors. But because this is the machine production, the quantity of each production can not be too low, otherwise the cost and waste will increase greatly. So we developed a similar collage photo frame for wall with reference to this injection-molded photo frame.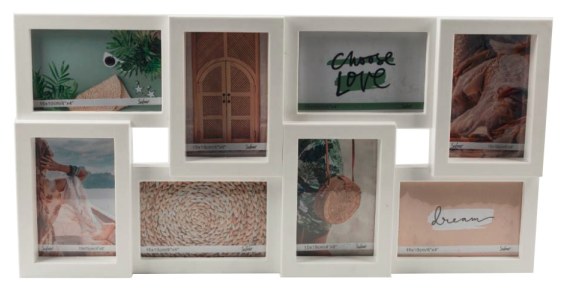 Follow picture is with MDF material and similar design as above plastic photo frame, you can have a clear look on it, we can change the size, the color of the wrapping paper, or accept relatively small orders for this collage frame.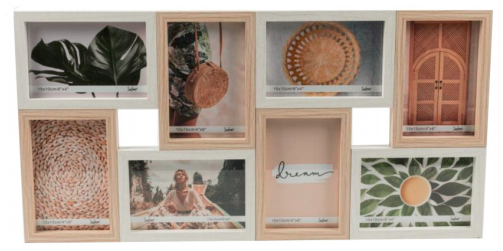 But in addition to the regular models, Sofine also tried other layout for eight-opening picture frame, such as below one, which is most popular and can have enough position to put photos in one frame , so that's why this kind of frames were too popular to accepted by the market and families;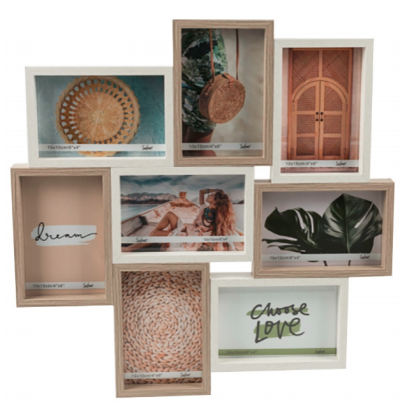 In general, MDF photo frames can be made of any size and any wrapping paper color choices to meet the needs of most customers. Accessories also can be changed according to the requirements of the customers, such as glass replaced with twine, profile can change with wooden material, add hooks, backplane replacement, etc. . Through constant innovation, Sofine still keeps bringing better and better inspiration and more for choose;